Yes, without buying new stuff. It is totally possible to elevate your apartment or home with a few simple tweaks and swaps (for free)! And you'll find out how in this blog post.
Easiest way to elevate your apartment for free is to declutter and fix your lighting. Simple yet powerful ways to completely transform your apartment from looking like a dungeon to something more light and cozy.
How to Elevate your Apartment for Free
This post contains affiliate links through which I may earn a commission for every qualifying purchase at no extra cost to you. Read the full Affiliate Disclaimer here.
1. Invest in your Bedroom
Invest in your bedroom. Time, not money.
Confused about what room to start "reinventing"? Start with your bedroom. Or the room you spend the most time in. And then, let it trickle down to the rest of your apartment.
Add the most comfortable bedding, sheets and decor pieces to your bedroom to make it feel more like you. Then, you can move on to decorating your balcony or the entrance.
Because, once you feel like you have elevated your bedroom (or favorite room), you most definitely would want to switch things up in the rest of the rooms.
2. Fix your Lighting
Easiest way to level up your apartment is to fix your lighting. Nothing's more fun than bringing light into a windowless room!
Do anything and everything in your power to bring in more natural light into your apartment. I won't go into the scientific benefits of living in a well-lit space but overall, it enhances your mood and you'll probably save some electricity.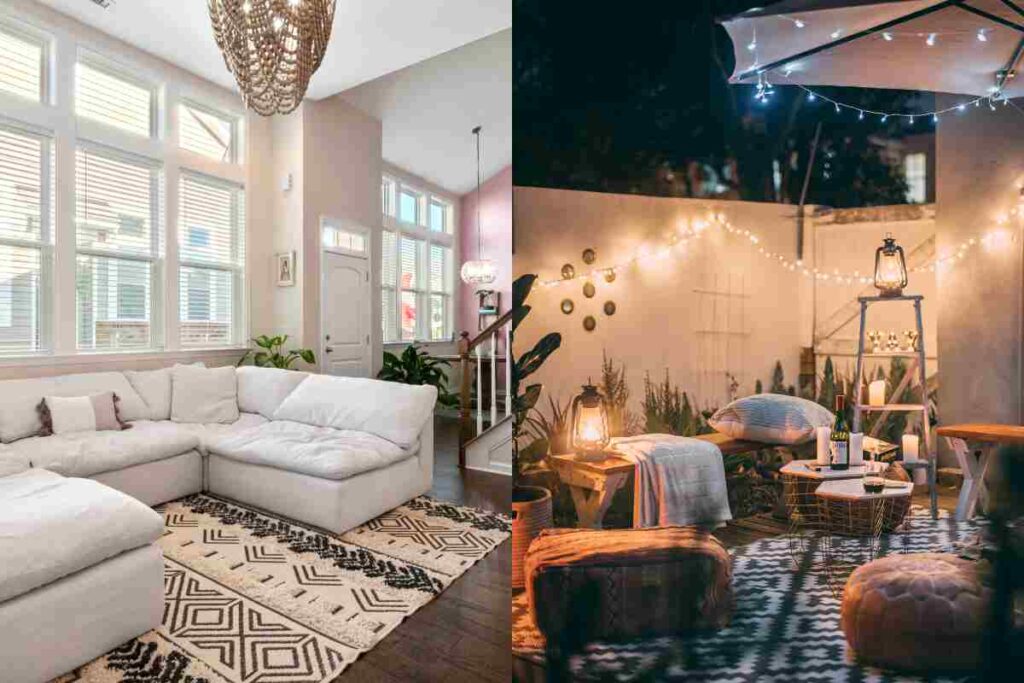 Now I know, not everyone has those huge windows with a ton of natural light seeping in but there's a few ways to get around this.
One way to maximize the light in your apartment could be by installing a mirror in a room across from where you get natural light. This way it bounces off the natural light
Adding dimmers to existing lights will help you switch up the mood of your apartment in an instant. This makes your apartment cozy and feel upscale.
3. Color > Colorless
Please, for your own sake, add a pop of color to your apartment. I can guarantee you it'll lift up your mood and make your apartment look & feel nicer!
You don't have to paint your walls neon pink or get a fluorescent carpet to spruce up your apartment. Pops of color, from books, flowers or even fruits on your counter top helps.
This image is the perfect example of how to have a balance of whites & pops of color. Colorful throw pillows, curtains and table cloths are a great way to sneak in some color into your apartment to elevate it for free!
Adding colorful paintings you dislike on windows that look out into alleyways or buildings, bathrooms and your balcony is another "safe" way to elevate your apartment for free because you don't see these decor as often.
Related: Why your Home has NO Personality + How to Fix It! I highly recommend you check it out!
4. Declutter Without Throwing Stuff Out
Are you a hoarder? This decluttering tip will help you a lot!
Instead of getting rid of stuff, what you can do is store the decor you are not currently using and rotate it with the ones that are on display on your counter when you want to spice up your apartment.
This way you not only elevate your apartment for free by decluttering, but also keep your interiors interesting.
You could do this every quarter or whenever you have this sudden urge to redo your apartment.
5. Closed Cabinets
Closed over open. Any day.
Tying it to the previous point I made, When you want to store stuff away, it is better to have closed cabinets as, no matter what crap you put in there, your apartment will look well organized from the outside.
For all fellow hoarders, hiding stuff away instead of getting rid of them is the ideal!
These were some ways to elevate your apartment for free without buying new and trendy home decor every few months. Which one was your favorite hack? Let me know!